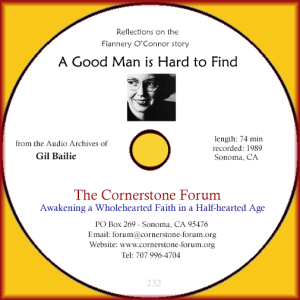 The Cornerstone Forum webstore is now adopting the 'industry standard' for online sales of audio materials. All sales of CDs will come with free downloadable MP3  audio files. When a customer completes an order for any CD material from our webstore they will receive an email receipt containing a link to a downloadable MP3 version of the same material.
Not only that – we are making our offer retroactive – anyone who has purchased CDs from our webstore in the past may receive links to downloadable MP3 files of the materials they have purchased. Just contact me at forum@cornerstone-forum.org and request the MP3 version of the CD(s) you purchased and I will email you the link(s).
---
In the coming months we will be adding more items from Gil Bailie's Audio Archives to our webstore including Reflections on TS Eliot's The Waste Land, The Hollow Men, Ash-Wednesday, Murder in the Cathedral, and The Love Song of J Alfred Prufrock. We will also be adding more audio-book titles to Audible and other audio-book vendors.