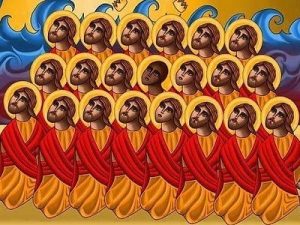 In a post from late last year the question Jesus poses in Luke 18:8 regarding the Son of Man's return and what he might expect to find was left for us to ponder. The steady receding of many of the cultural bulwarks of traditional manifestations of Christian faith in the West along with the implosion of previously highly regarded Christian institutions have led some to a diminished confidence in what the Lord may find on his return.
But the spectacle of waning faith in the lands of plenty may be offset by the evidence of a living faith not susceptible to the media displays of the technologically advanced world to be found in poor villages of lands to which we give little or no notice. It is with profound gratitude that we should then glimpse this world that Martin Mosebach has provided in his The 21: A Journey into the Land of Coptic Martyrs. First Things has published an essay adapted from Mosebach's book. A martyr is etymologically a witness, someone who gives personal testimony to the truth of what they have seen and heard. Of that testimony we become witnesses in turn. Something like this is recounted in the related stories of the martyrdom of St. Stephen and the conversion of St. Paul. And so, the Church throughout the world is descended from such witnesses
In February 2015 a propaganda arm of the Islamic State (ISIS) posted on the internet a well-produced video of the ritual beheading of 21 Egyptian Coptic Christians entitled "A Message Signed with Blood to the Nation of the Cross". The civilized world looked away in horror from this barbaric depiction of the slaughter of 21 men who would not deny their Christian faith even to save their lives. In the First Things essay Mosebach writes:
Not long after the Twenty-One were beheaded, I met with a German cardinal. I asked him why the Catholic Church did not formally recognize the testimony of these men of faith, as the old Church generally had in cases of martyrdom. "But they're Copts!" he answered…. then and there I decided I had to learn more about the Copts, and the Twenty-One in particular.
Mosebach asks us to not look away but rather to look directly into the faces and lives of these martyrs. By doing so we of the lands of plenty and waning faith may find something that we have lost and may yet regain…but not without cost.