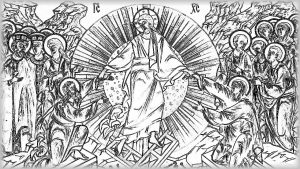 The recent (and all to frequent) hiatus in posting to our weblog has a both a sad and joyous reason. We learned earlier this month of the death of our friend Robert Glass, one of the Cornerstone Forum's most generous supporters. I had met with Robert and his wife Leslie along with another long time supporter, Jim Steinwedell, in Los Angeles in January. Among many things we discussed how our work could be made available to new audiences. The excitement and enthusiasm generated at our breakfast gathering that day will stay with me as a gift. Gil Bailie attended Robert's memorial service in the LA area and gave a short homily. While he was there Gil received the news of the death of a dear cousin in Tennessee. Returning from Los Angeles, Gil traveled to the funeral in Tennessee. And while in Tennessee he learned of the passing of our long time friend and supporter, Fr. Arne Panula.
Fr. Arne had been for many years the director of the Catholic Information Center in Washington, DC. During the Emmaus Road Initiative's 'road show' in 2008-9 Gil made monthly presentations at the CIC. Gil noted Fr. Arne's death on the Cornerstone Forum Facebook page. In the post Gil linked to an article entitled, "Did You Ever Think You'd Known a Saint?", that provides a brief introduction to this extraordinary man.
Being close by to Washington, DC while in Maryland, I attended the wake at the CIC chapel and experienced the mysterious mixture of sadness and joy as those gathered recounted the gracious gift of friendship shared with Fr. Arne. Another article, of a more personal nature, was posted on The Catholic Thing by Hadley Arkes entitled, "What Fr. Arne Shaped" This reflection, more than a recounting of acomplishments, gets to the heart of what so many people experienced, whose lives were changed by the encounter with this man. The joy underlying the loss we feel at the casket of those whose life reflected the life of Our Lord so faithfully is the hope of the resurrection. Requiescant in Pace.